Pro Exzellenzia meets UHH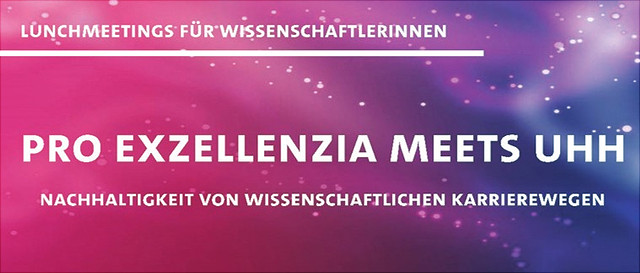 To promote the "Sustainability of scientific career paths", these regular lunch meetings for female post graduates, doctoral students and Postdocs from the STEM field create an inspiring atmosphere for discussions and networking. Every event focuses on a different aspect of scientific careers. Top-class scientists report their personal experiences and professional trainers give hints for handling critical situations. "Pro Exzellenzia meets UHH" is a cooperation between the Hamburg-wide networking-training-support program for women "Pro Exzellenzia", the MIN faculty, the equal opportunity unit of the Universität Hamburg and the Clusters of Excellence CliSAP.
Since 2018 the faculty of humanities is also part of the project. We are really excited and looking forward to the new input from participants and speakers of this field.
Please note that the presentations are given in German.
Next Event
"Follow me! - Social media in the context of academic careers"
The next event in the Pro Exzellenzia series will be held in the Geomatikum on Wednesday, November 13, 2019, from 12.15 to 14.00, together with the MIN faculty.
Social media have long made the leap from the private to the professional context. Twitter, blogs or websites, the web-based appearance increasingly determines the reception of scientists - in the scientific community as well as in the public. Many scientists struggle to use social media channels for scientific outreach. For others, the benefits of creating a global network and sharing research with a wider audience already outweigh the scepticism. No matter which position you are heading for, it pays off to study the topic!
We invited experts from the UHH to share their experiences with different perspectives on the subject. With finger food and drinks, they will report and give tips on what opportunities there are and which formats have proved helpful. Afterwards there will be the chance to talk to the experts directly.
       Who? PhD students and postdocs
       When? November 13, 2019, 12:15 to 14:00
       Where? Universität Hamburg, Geomatikum, Bundesstr. 55, 20146 Hamburg, Room 1528
Please register by e-mail with your professional affiliation to proexzellenzia"AT"hamburg-innovation.de. Registration deadline is 31.10.2019.
Poster "Follow me! - Soziale Medien im Kontext wissenschaftlicher Karrieren"
---