Pro Exzellenzia meets UHH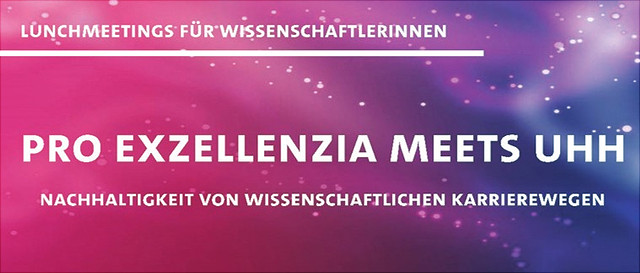 To promote the "Sustainability of scientific career paths", these regular lunch meetings for female post graduates, doctoral students and Postdocs from the STEM field create an inspiring atmosphere for discussions and networking. Every event focuses on a different aspect of scientific careers. Top-class scientists report their personal experiences and professional trainers give hints for handling critical situations. "Pro Exzellenzia meets UHH" is a cooperation between the Hamburg-wide networking-training-support program for women "Pro Exzellenzia", the MIN faculty, the equal opportunity unit of the Universität Hamburg and the Clusters of Excellence CliSAP.
Since 2018 the faculty of humanities is also part of the project. We are really excited and looking forward to the new input from participants and speakers of this field.
Please note that the presentations are given in German.
Next Event
We cordially invite you to our online anniversary event "Pro Excellenzia meets UHH: Well negotiated is half won - negotiation strategies in the science system"!
Date: Wednesday, 19.08.2020
Time: 12:15 - 14:00
Click here to register: https://pro-exzellenzia.de/event/pro-exzellenzia-meets-uhh-gut-verhandelt-ist-halb-gewonnen-verhandlungsstrategien-im-wissenschaftssystem/
There are numerous negotiation situations in an academic career - whether as a research assistant, doctoral candidate, in the post-doc phase, when acquiring third-party funding or when starting a professorship. However, these situations are not always as clear-cut as in the negotiations for a professorship. So what are the concrete negotiation situations? What scope for action exists? And which tips and tricks are important in order to enter negotiations confidently and well prepared? We have invited various experts to give you answers to these questions. Dr. Stefanie Schönbach-Fuleda, coach and trainer in science, tells you which negotiation strategies are successful and what you should avoid in any case. Scientists share with you personal negotiation experiences during their scientific career. The event will be held in German. 
Venue: Online via zoom
The participation is free of charge. We are looking forward to you!
---