12th International Congress on Membranes and Membrane Process 2020
by Jiali Wang
The 12th International Congress on Membranes and Membrane Process 2020 was organized at United Kingdom on 7 - 11 December 2020. This major international conference brought together leading membranologists and researchers to share the latest developments in membrane science and technology and fundamental areas of application with particular focus on emerging trends in the field and industrial use of membranes. It was a great honor for me to give an oral presentation with a title of 'Sub-10 nm isoporous membranes obtained by two post treatment approaches and their performance study on protein separation'. (The photo of my oral presentation was enclosed below.)
Due to the pandemic of COVID-19, this conference took place Online. It was difficult to hold an online conference for people from all over the word with different background in different time zones but it was well organized due to the indispensable contributions of every participant and every organizer. Within 5 days' schedules the conference was organized in total 95 sessions. The conference included 283 participates from different countries and 4 invited speakers from 4 countries from different continents to present their recent works in the field of membranes and membrane process.
The conference is highly recommended to students and young researchers to attend because it was really an ideal platform to present their research results to the international peer-reviewed scientists, researchers, and as well as technologists and industry representatives. Moreover, the invited speakers delivered thought-provoking and intriguing lectures on cutting-edge topics and future perspectives in this field. A large variety of oral presentations in different research directions concerning novel materials, gas separation, liquid separation, fuel batteries, etc. and the post presentations with large exhibition were arranged. From this conference I have learnt fruitful knowledge and multiple strategies to further conduct our research with modern techniques, more inspiration and creative thinking.
Finally, I would like to thank Hamburg University and MIN faculty for giving the funding which covered the registration fee to support me to virtually attend the ICOM2020. Also my truthful gratitude goes to my supervisor Prof. Volker Abetz for his wonderful supervision and valuable scientific discussions.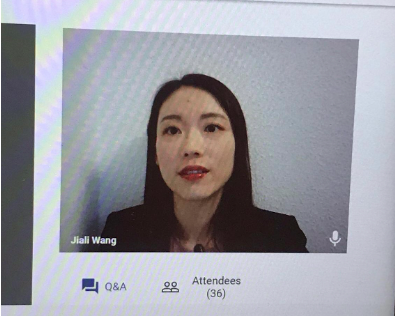 The photo was taken during my oral presentation on 'Sub-10 nm isoporous membranes obtained by two post treatment approaches and their performance study on protein separation'.