A KNOT(EN) coordinates recombination
27 March 2023, by Maria Latos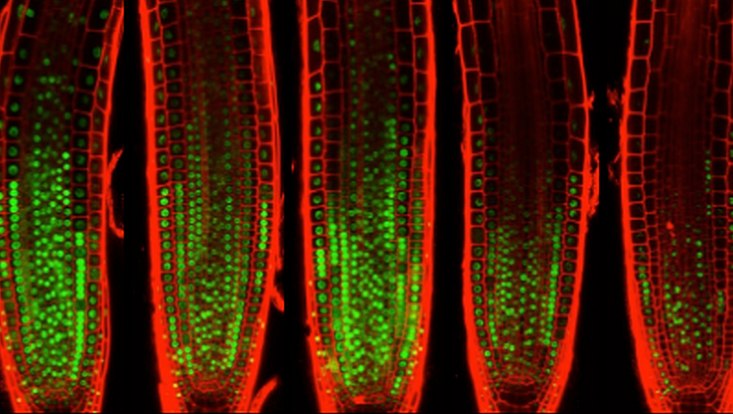 Photo: UHH/MIN/Schnittger
A time series of Arabidopsis roots analysed at 0, 3, 6, 12, 24 and 30 hours: The Bloom complex is rapidly degraded by autophagy after DNA damage - visualised by the fusion of a central component of this complex (called RMI1) to a green fluorescent protein (GFP).
An international research team led by the Department of Biology at Universität Hamburg has discovered a new protein in plants that enables homologous recombination, i.e. the repair of similar DNA molecules. The work could also be of importance for clinical research on neurodegenerative diseases and cancer and has been published in the EMBO Journal.
The genetic material of all living organisms is constantly damaged, whether by environmental influences such as sunlight or by metabolic products in the organism itself, for example highly reactive oxygen molecules. A particularly dangerous type of damage is cross-linking of DNA strands. These can be repaired by means of a mechanism called homologous recombination (HR) without causing errors. However, HR also poses danger to a cell because, left unchecked, HR itself can lead to DNA damage that can cause neurodegenerative diseases and cancer. But how this molecular Pandora's box is opened is not yet well understood.
Now, after cross-linking DNA in plants of the species Arabidopsis, an international research team led by Prof. Dr. Arp Schnittger, a developmental biologist at Universität Hamburg, has discovered a protein, called KNOTEN1 (German for knot 1), with a previously unknown function.
In the studies, the team was able to show that KNOTEN1 promotes the degradation of the so-called Bloom syndrome complex, a key regulator of HR. "This means that not only the production of proteins, but especially the controlled degradation - in this case autophagy - of proteins represents an important tool for the function and survival of a cell," says Prof. Arp Schnittger. "This is especially crucial in the stress response of a cell."
In this context, there is not only one degradation pathway for proteins, but several. Schnittger's research team found that for accurate control of HR, two key degradation pathways - proteasome- and vacuolar-mediated degradation - intertwine and interact. "It is likely that similar control mechanisms also occur in humans, and we hope that our work will stimulate research by colleagues in the clinical field," Schnittger concludes.
Original publication
KNO1-mediated autophagic degradation of the Bloom syndrome complex component RMI1 promotes homologous recombination (2023)
Poyu Chen, Nancy De Winne, Geert De Jaeger, Masaki Ito, Maren Heese, Arp Schnittger, The EMBO Journal.
Contact
Prof. Dr. Arp Schnittger
Faculty of Mathematics, Informatics and Natural Sciences, Department of Biology