1,000 plants sequenced
Protein identified that regulates crossover processes
2 January 2023, by MIN-Dekanat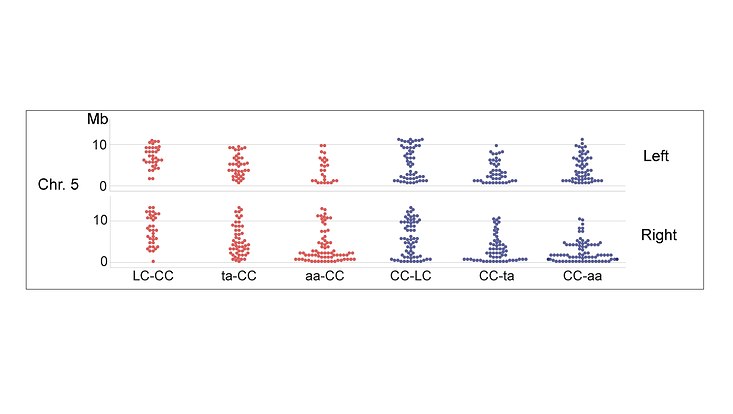 Photo: UHH/MIN/Schnittger
The crossover distributions of the left (top) and right (bottom) arms of chromosome V of Arabidopsis in different mutants. Red is the male meiosis, blue the female. In the wild type (LC-CC and CC-LC), a fairly even distribution of crossovers is seen. With reduction of ASY1 (ta) to complete loss of ASY1 (aa), the crossovers are pushed more and more to the end of the chromosomes.
By sequencing 1,000 plants, an international research team led by the Department of Biology at Universität Hamburg has discovered that two important aspects of meiosis - "crossover interference" and "crossover assurance" - are regulated by the protein ASYNAPTIC 1 (ASY1). The results, now published in the journal "PNAS nexus", could also be relevant for the breeding of crop plants.
Meiosis has two important functions in the life cycle of all sexually reproducing organisms. On the one hand, the genetic material in the germ cells of both parents is reduced, so that after fertilization the number of chromosomes as found in the parental species is restored and there is no genome duplication from generation to generation. On the other hand, there is an exchange of DNA segments between the chromosomes through so-called crossovers producing new genetic combinations. These new combinations are particularly important in the adaptation to changing environmental conditions and thus, contribute to the evolution of organisms.
These new combinations are also key in breeding, for example to obtain plants that have increased yield or an improved defence against pathogens. However, the formation of crossovers is subject to certain rules that, despite the importance of meiosis, have not yet been fully understood. For example, the majority of crossovers are placed so that one crossover is positioned as far as possible from another crossover, a process called crossover interference. In addition, the crossovers are controlled in such a way that each pair of parental chromosomes receives at least one crossover, which is called crossover assurance.
An international research team led by the Hamburg developmental biologist Prof. Dr. Arp Schnittger from the Department of Biology at Universität Hamburg discovered through work on the model plant Arabidopsis that both processes - crossover interference and crossover assurance - are regulated by a protein called ASYNAPTIC 1 (ASY1). To do this, the researchers sequenced around 1,000 plants and mapped the crossovers.
The results show that when ASY1 is mutated, crossovers are predominantly formed at the ends of the chromosomes and are much closer together than in the control plants. In addition, there were many chromosomes that did not received any crossover at all.
"In addition to contributing to the understanding of fundamental aspects of meiosis, our work also opens up new possibilities for changing the positioning of crossovers in crop plants to make them more robust or more productive than the current ones," explains Prof. Dr. Arp Schnittger. In the future, Schnittger and his team aim to understand how the localization and activity of ASY1 is controlled. "Since ASY1 belongs to a family of proteins that are also found in mice and humans, we think that these proteins have a very similar function there and that the mechanism that we are now investigating in plants is also found in many animals."
Original publication
The Arabidopsis Hop1 homolog ASY1 mediates cross-over assurance and interference, Gaetan Pochon, Isabelle M Henry, Chao Yang, Niels Lory, Nadia Fernández-Jiménez, Franziska Böwer, Bingyan Hu, Lena Carstens, Helen T Tsai, Monica Pradillo, Luca Comai, Arp Schnittger, PNAS Nexus (2022).
Contact
Prof. Dr. Arp Schnittger
Faculty of Mathematics, Informatics and Natural Sciences, Department of Biology
Ohnhorststrasse 18
22609 Hamburg