Bacteria – nature's trash collector for plastics?
30 August 2018, by Maria Latos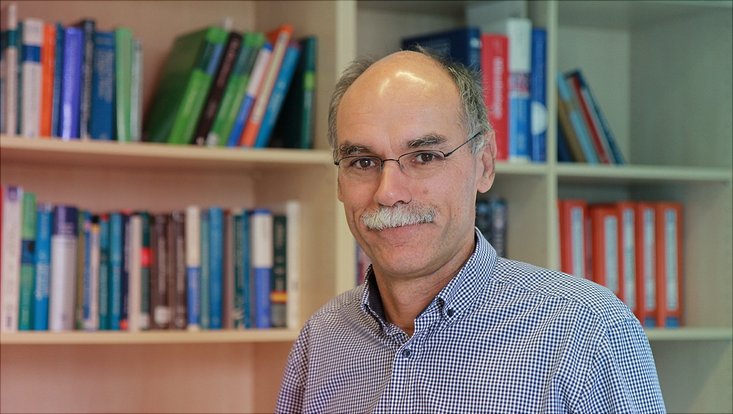 Photo: UHH/MIN/Latos
Prof. Dr. Wolfgang Streit and his team in the Department of Biology at Universität Hamburg are trying to find out, if microorganisms could rid the world of microplastics.
Could microorganisms devour and rid the world of microplastics? Prof. Dr. Wolfgang Streit and his team in the Department of Biology at Universität Hamburg are trying to find out.
Prof. Streit, you and your team are looking at bacteria that devour plastic. The idea is that they will rid the environment of microplastics. What could that look like?
Imagine a tanker leaking oil in the ocean. The first to arrive on the scene are the fire department and nature protection organizations for a rudimentary clean-up. When they leave, microorganisms act a bit like nature's trash collectors. They eat the oil and digest it using enzymes. They cannot entirely undo the damage, but they can fix much of it. This is roughly what we are thinking with regard to microplastics.
How dire do you think the problem of microplastics really is?
We can easily collect and dispose of large pieces of plastic waste like bottles or bags. We cannot see, however, the pollution caused by nano- or microplastics. We cannot always say where microplastics are or what their material flow is like. We know how much industry produces annually but we don't really know where it ends up. Sometimes in the water—in lakes and oceans—but also in the soil. There aren't any current studies that really prove that plastic is toxic or will become so in the years ahead. But it's a possibility. Plastic could be a time bomb.
In 2016 researchers from Japan found the first plastic-eating bacteria. What took so long?
Actually, colleagues from the former Society for Biotechnology—now the Helmholtz Centre for Infection Research in Braunschweig—identified the first plastic-eating bacteria in 1998 (Kleeberg et al., Appl. Environ. Microbiol. 1998 64(5):1731-5). Initially they were concerned about commercial matters, not about environmental technology.
What were those concerns?
Cellulases are enzymes made up of bacteria. They can break down cotton wool threads. This is why they are used in detergent: to prevent pilling or the build-up of cotton fuzz on sweaters or pants. Detergent manufacturers then looked for similar enzymes for synthetics such as polyester. They found them, but they weren't strong enough to break down plastic in the natural world.
And how active are the bacteria discovered by your Japanese colleagues?
They still have very long decomposition rates. It can take up to 500 years for a plastic bottle in the soil to decompose. The bacteria can perhaps break down smaller particles more quickly but we don't have reliable data on that.
Why are they so slow?
Generally, evolutionary processes take place over millions of years. But PET and other plastics have only been around for about 60 years. For bacteria, that is too little time to really adapt. Also, PET was designed to last a very long time and not to rot. Nonetheless, we have found plastic-eating bacteria and we are on the search for bacteria with better decomposition rates.
Where do you look for the microorganisms?
We ask where in nature there are surfaces similar to plastic and we have identified three places to look more intensively for bacteria: first, on waxy leaves, for example, in the Botanical Gardens; second, near oil reserves, such as in Wietze, where oil is extracted via above-ground tar cooling; and third, Hamburg's harbor, where ships and human activity have produced oil in no small quantities.
And what then?
We analyze the various bacteria at these places. Since we cannot cultivate roughly 99% of these bacteria, we are trying to identify the enzymes necessary for plastic decomposition using other, culture-free methods. Concretely, we are looking for so-called PET hydrolases.
British scientists have taken a different approach. They want to change known enzymes to increase their turnover rates. Do you think that will work?
Yes and no. The approach will quickly bump into roadblocks. The enzymes we have now are so slow that even if they increase by a factor of 10 they won't be efficient for turning over plastic. The basic enzymes have to be more active.
But are the enzymes really harmless if they are genetically altered?
Enzymes are a very environmentally friendly and safe method. After all, they are not organisms. This is why they are used in other areas, for example for fruit juices, wine, or baked goods like pizzas and bread.
How could microorganisms or their enzymes be used in the future?
We could add enzymes to purification plants or detergents. They could also be used in places that have been contaminated by microplastics, or in organic waste collection bins—where plastics end up now and then. You could add an enzyme cocktail to disintegrate the plastic and remove it from the environment.
---
Contact
Prof. Dr. Wolfgang Streit
Department of Biology, Microbiology & Biotechnology
Maria Latos
Communication and Cooperation Projects