"dynaMENT – Mentoring for Women in Natural Sciences" enters second round
29 June 2017, by MIN-Dekanat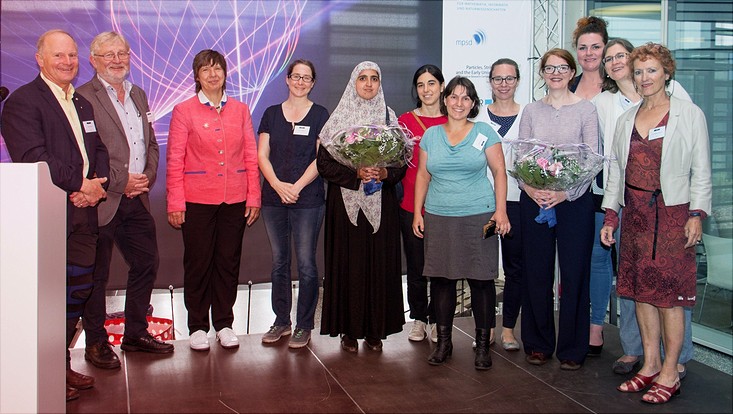 Photo: UHH/Michael Grefe/SFB 676
"Now I am more confident to pursue the next steps in my career", says Dr. Carmen Diez Pardos. The physicist at the DESY CMS group participated in the first round of the Mentoring for Women in Natural Sciences programme. The programme is organised jointly by the Hamburg Centre for Ultrafast Imaging (CUI), Deutsches Elektronen-Synchotron (DESY), Max Planck Institute for Structure and Dynamics of Matter (MPSD), Faculty of Mathematics, Informatics and Natural Sciences at Universität Hamburg, PIER Helmholtz Graduate School, the Collaborative Research Centre 676 "Particles, Strings, and the Early Universe" and the Collaborative Research Centre 925 "Light Induced Dynamics and Control of Correlated Quantum Systems" to support female scientists in their early career. For one year, the young researchers form mentor-mentee couples with excellent advanced colleagues. In addition to confidential one-to-one mentoring sessions, they participate in networking events and workshops.
Dr. Diez Pardos partnered up with Prof. Dr. Arwen Pearson, biophysicist at CUI. "It was great to have someone you can speak to freely about things that worry you at work or about your career planning", she pointed out. "I learned a lot about myself." For Prof. Pearson, it is most important to encourage young female researchers to be confident and grab opportunities when they arise. "Women must learn to trust themselves, because talking themselves out of applying for things is a key point in the leaky pipeline." As a mentor, she builds upon her own experiences: "I was lucky enough to have, and still have, great mentoring. So this is my way to pay things forward - and it is very rewarding to see someone grow."
dynaMENT has just started its second round of mentoring. 15 participants will gather at a first introductory workshop this month, which will be followed by courses in leadership, conflict management, presentation, communication, recruitment as well as networking opportunities. Applications for the third round can be submitted early next year.
Further information:
---